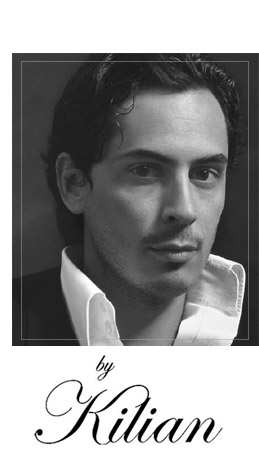 By Kilian Fragrances

Kilian Hennessy…if the last name rings a bell, your instinct is right. Kilian is the heir to a long line of French cognac makers which bear his name. Grandson to the founder of the Moët Hennessy Louis Vuitton Group, Kilian is looking to make his legacy one of finely crafted perfumes that spare absolutely no expense. By Kilian fragrances follow that time-honored tradition of you get what you pay for…go for the best and you'll never be disappointed.

L'Oeuvre Noire Collection
He's named his first collection of fragrances L'Oeuvre Noire and broken them into three distinct parts: feminine (theme: ingénues, a mix of tender sweetness and awakening wiles); masculine (theme: artificial paradise, the dark side of beauty) and unisex (theme: the Parisian orgy, a source of desires, transgressions and pleasures of the flesh).

Arabian Nights Collection
The Arabian Nights collection will be composed of 5 olfactive harmonies, all built around essential oils with strong symbolic values from the East: Oud, Rose, Incense, Amber and Musk. In many Middle Eastern countries, oud is believed to be worth more than its weight in gold. To echo this belief, the Kilian bottle has a gold plaque engraved with the name of the perfume and the box is decorated with a gold plate on the top.

Asian Tales Collection
KILIAN takes us on another exciting discovery of a new culture. As the creation took shape, every detail was placed with careful attention and with the intent to pay homage to this great culture.

In the Garden of Good and Evil
For Kilian, an olfactive harmony always begins with a story. In this new collection, it is the myth of original sin which is found at the heart of the narrative - a classical theme whose interpretations punctuate art in all of its forms. Here, the world of perfume enters into the garden of Eden and shows us another side of the story, leading us away from the well-known representations and allowing us to understand it now by breathing in its delights.

A collection as a promise of forbidden pleasure. A collection that invites us to succumb to our most secret desires, breaking through time back to the entrance in the garden of Eden. An entrance which begins by a rendezvous in The City of Sin, the beginning of a forbidden passage, the place of shadowy sensory delights that tantalizes and seduces us in the Kilian collections.