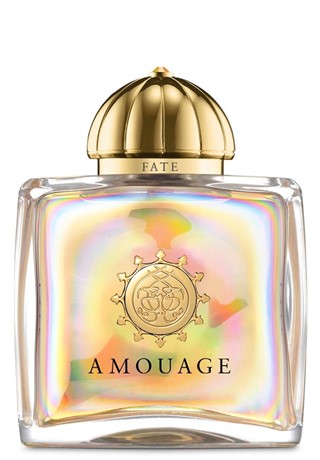 Awarded 5 Stars (Masterpiece) by Luca Turin
"How time flies. It seems only yesterday (actually five full years) that Christopher Chong took over Amouage's art direction and propelled this Omani firm, then known chiefly for its classic no-expense-spared Gold, into the first rank of perfumery. Chong is that rare bird, a natural perfumery art-director, who knows what he wants and will not give up until he finally smells it. In a recent interview with Style.com/Arabia, he said that Fate was a loud fragrance, so one expects a massively-built monster like the wonderful Ubar reissue in 2009. The surprise begins with the first puff from the spray: a fresh, radiant, powdery advance guard briefly fills the room. Seconds later, you are faced with one of the most intricate and beguiling fragrances in years. Nothing this big, complex and beautiful has been done since the first Boucheron. Though the top has a Guerlain-like appetizing feel, Fate borrows its core from Opium, i.e., woody-balsamic with an emphatic dose of the cool minty note that separates it from the merely warm, dusky Cabochard-Cinnabar style. Opium's virtue was its novel, instantly recognizable tune, of which we eventually tired. But don't let the reference put you off. Fate is to Opium what Mitsouko was to Coty's Chypre: a transfiguration. The central structure is deep in there, now cloaked in a cloud of radiant dust borrowed from the unstructured opulence of Gold, plus—a brilliant touch—a dry, fresh cigar-box cedar note to guard against excessive sweetness. Loud? Possibly, but comfortably so, without harshness or distortion. Like very few fragrances, Fate delivers the rush of physical glee you get when you sit in the front row of the stalls and a great orchestra begins to play. Just don't wear it to supper." – Luca Turin, Style.com/Arabia

Bergamot, cinnamon, chilli, pepper, rose, narcissus, jasmine, frankincense, labdanum, vanilla bean, benzoin, castoreum, patchouli, oakmoss, leather.