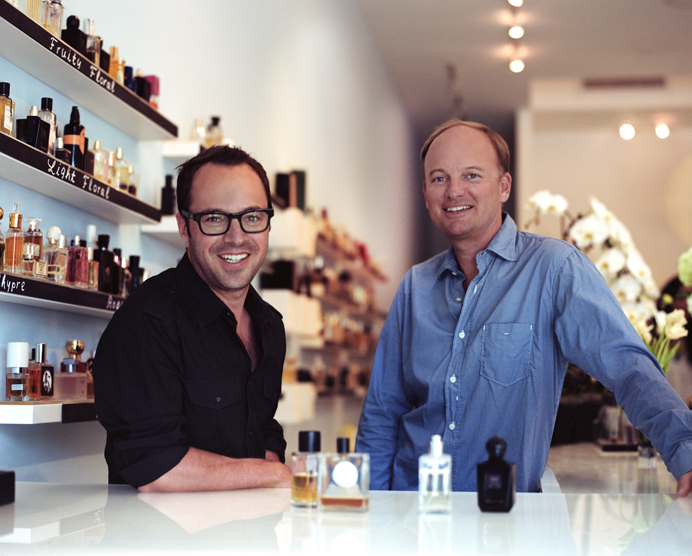 Luckyscent is Adam, Franco, and a tireless team of happy fragrance lovers. We seek the unique, rare and exceptional, and this passion applies to all of our interests, whether it's music, art, food or fragrance. Never before, however, did we share this passion beyond our respective social circles. Luckyscent provided us with a means to do just that, expanding our reach past our own borders to a larger community of fragrance lovers around the world.


The Origins of Luckyscent
As graphic designers running our own studio, we had a never-ending supply of beauty products for which we designed advertising and promotional materials. So littered was our office with cosmetics and fragrance, it began to look like an apothecary (albeit slightly disorganized). This constant exposure caused something to take root: a love for fragrance. Of all the items surrounding us, it was fragrance that captured our noses, our imaginations and our passion. We devoured the stories behind the small brands, the unusual bottles, the wild concoctions of exotic oils, the emotions that each scent could evoke. In short, we were hooked.

Purely out of personal interest, we began combing the world for new and unusual fragrances. Anything that was under the radar, odd or unconventional got our attention. At the time, it was difficult to unearth many brands meeting these criteria. There were a few here and there, but nothing much more was said than other than the name, price and a very basic description. There was no passion... no music. That's when we took matters into our own hands and endeavored to raise the bar on how niche fragrance is presented online.

Naturally, there were boutiques and even department stores that offered some selection, but there was little enthusiasm or respect for these wonderful elixirs. All too often sales associates seemed more interested hitting a sales quota rather than introducing you to the new and extraordinary. It could be intimidating and overwhelming if you were just looking. The pressure to buy is very real and, in our opinion, unpleasant.

This had us thinking…why not present these extraordinary fragrances in a way that nobody else does? A way which offers the customer a chance to truly understand it and even try it before buying. After all, it's a chemical process and a very subjective one at that. No fragrance dries exactly the same on two different people and we all need time with a fragrance to truly experience it from stem to stern. It's quite difficult, on first sniff, to say, "That's the one for me." How long does it last? How does it evolve on you? How does it make you feel? Standing at a fragrance counter with a high pressure salesperson or, worse, an uncaring one, rarely provides satisfactory answers to these questions. We felt there was a better way, and we decided to create it.

That was the genesis of Luckyscent.

We dedicated some of our spare time between graphic design projects toward building a website that would offer exactly what we were seeking: a place where we would shop that carried the brands we knew and loved. We wanted a whimsical feel and a cheeky point of view to demystify fragrance for people such as ourselves while still providing a true sense of the fragrances. After all, we were rather unstudied in the field at the time and we wanted to be sure that everyone would feel welcome, particularly those such as ourselves. So we dispensed with the pre-written descriptions and began to produce our own.


Why We Did It
Our interest came from passion, not necessarily knowledge. It was much more of a lark than a concerted effort to start a new company, but that's just what happened. We eventually realized we would have to close our graphic design studio in order to tend to the needs of Luckyscent. So after several years, we closed our design business and forged ahead into niche perfume.

For four years we toiled away, finding new fragrances, dutifully announcing recent finds and tirelessly shipping orders filled with our olfactory narcotics. Boxes filled with delicate bottles circled the globe...lighting up the noses of Swedes, Canadians and Australians alike.


Scent Bar - Los Angeles
After four years of an online presence, we decided to step out of the digital shadows and open a retail location. Scent Bar Los Angeles opened in December of 2006, establishing our own little nook in the Beverly Quarter of West Hollywood. We often describe Scent Bar as a "wine bar" for fragrance, a place where you can sit and relish extraordinary scents for as long as your schedule will allow. Rather than grouping our fragrances by brand, we grouped them by type, which helps many people initiate their quest for that special fragrance. While not an exact science, it creates a point of reference from which to begin the search for a signature scent or just something new for the season. We created the store to reflect our ideals about design and fragrance shopping. The object of Scent Bar is not necessarily to sell but, rather, to share. If you find something that seems right but are not absolutely certain, we will send you off with a sample rather than pressure you to make a purchase. At the end of the day we want our customers to love what they wear.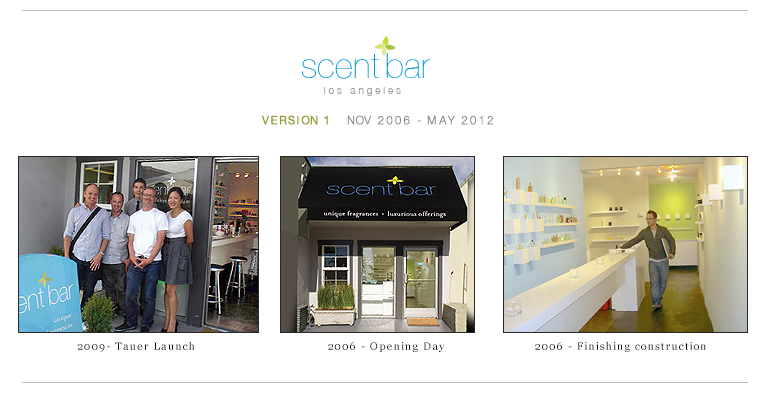 After five years at our West Hollywood location, we were completely out of space for our ever expanding library of fragrances, so in January 2012 we took a larger space at 7405 Beverly Blvd. and began construction on our latest incarnation of Scent Bar, which offered so much more than the first, not least of which was space. On May 1st we opened the new shop which has been our happy home ever since.

Like the website, Scent Bar is a means of discovering new and obscure fragrances. We encourage exploration, experimentation and, most of all, just taking time to enjoy the magic of fragrance. All of our brands and products have earned a place in our hearts for one reason or another and we strive to show them all. But most of all we endeavor to continue finding the most noteworthy and unusual new fragrances, while continuing to offer and honor all the established brands. It's a never ending journey which continues to offer mystery and excitement.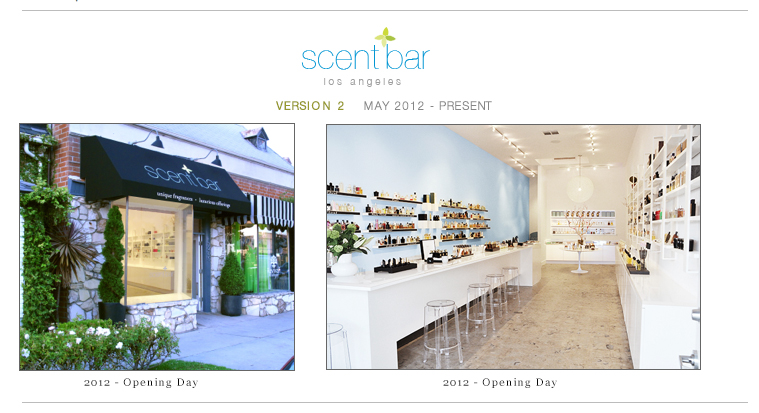 Where We're Headed
As Luckyscent continues to grow past our 10th year, we will press on in our search for the extraordinary in whatever we offer. We've already started introducing new products outside the realm of fragrance in order to keep things interesting, and we hope to open additional Scent Bar locations in the future. As long as there are people who share the same passions as we do, we will have nothing but tireless energy to continue unearthing the most remarkable items to share with the world. The future for us looks beautifully scented indeed—a world scented with soft greens, warm ambers, earthy patchoulis, sweet honeysuckles and smoky incense.



Back to Top