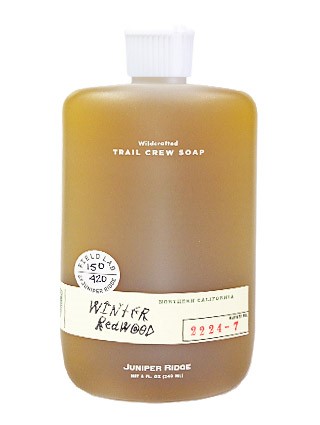 Winter Redwood - Trail Crew Soap


Limited Edition!
A seasonal fragrance inspired by winter days spent foraging for wild mushrooms and exploring the secret Redwood canyons of Mt. Tamalpais. Made for men and women, the perfume is extracted from plants, bark, and moss harvested in the misty coastal wilderness north of San Francisco.

Pour a quarter-sized portion into your hands; lather with water. Works great as a hand soap, body wash, or an all-purpose camping soap. Unlike bar soaps, which can get mucky, Juniper Ridge's Trail Crew Soaps do well sink-side and in showers.

Crafted in a hand-numbered edition of 420 using steam-distillation, campfire-distillation, enfleurage, tincture, and infusion.




Redwood needles, Douglas Fir pitch, sea grass, Chanterelles cooking on the campfire, wood smoke in the cool evening air, jeans soaked through at the knees.